In addition to being filled with the best paper in the world, many of the notebooks and journals in our Clairefontaine collection boast beautiful cover art. Some of these illustrations and designs are created by well-respected artists, but unfortunately these are often limited editions– meaning once they're gone they're gone for good. The following collections have since been discontinued, but we still have a limited supply in stock– just a heads up so you can stock up before they're history.
The Clairefontaine "Mlle No" collection is designed by French artist Jessica Ollivaud, whose art evokes the whimsical and ethereal, but with a modern edge. This collection includes a Large Wirebound Notebook, a Medium Wirebound Notebook, and one secured with elastic. If you're looking for a unique gift there are also Memo Pads and Magnetic Journals featuring these beautiful illustrations
Robert Le Heros is a graphic design company that designs for prestigious companies worldwide. Their design for Quo Vadis is a contemporary twist on a floral design. The only products we still have in stock from this collection are the Large Journal and Small Journal!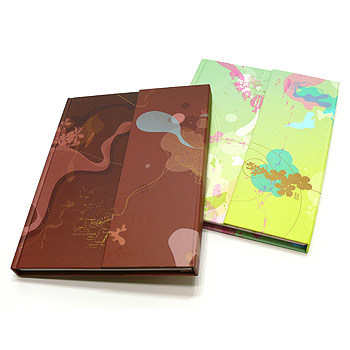 This may sound corny, but I imagine that if dreams could be illustrated they would reflect the Clairefontaine GraficFlow collection. The abstract elements are composed in such a way that you see familiar things in something that doesn't really make sense. Give the Magnetic Journal as a gift, and keep the wirebound notebooks for yourself (available in Large and Medium).
by